WordPress is an open source Content Management System that allows web design and development to be made easy. Building a WordPress theme from scratch requires a lot of coding skills and can take some time more than any developer could just expect. It has been made easier for us to easily search for themes on any theme shop and select from a range of multiple themes out there and choose the ones that best describe our needs.
This technology is the reason millions of people can boldly launch their websites and personal blogs within a couple of seconds every day without any technical skills. Since WordPress is a drag and drop platform, anyone can just go in there and launch their own sites. But a headache is getting a proper theme that will satisfy your needs.
If we choose not to use a custom theme on our designs, there are default themes that are free whenever we launch WordPress, but these themes may not give us what we require because, since there are free, they have no original customization access to fit into our various web projects.
Most importantly, finding a good WordPress theme that suite our projects could be a serious case that requires immediate intervention and most blogs out there seems not to provide a good lead or directive on getting those beautiful and awesome themes.
I have decided to make this post with a categorisation of all the business, consulting and corporate WordPress themes that will suit any form of a business web project.
These are handy when you are launching a website for a business purpose, portfolio, landing pages etc. They are well crafted to fit any business type, Portfolio or Resume.
You May Also Want to Read: Happythemes Review 2018 | Best Free and Premium WordPress Theme Store
Best Consulting, Business and Corporate WordPress Themes
Here's the list of handcrafted WordPress themes for business websites.
Business Directory WordPress Theme by Templatic
Business Directory WordPress theme is an astonishing theme that fit in any business type related to review, listing, job posting etc. It can be customized to any standard to suit your needs. The features are highly endorsed by the top professional in programming.
It's a business repository theme for business, shops, offices and any form of listing purposes. It has two main menus3, one at the top, one at within the logo section and it also has location navigation to let visitors easily browse listing with location base.
Brilliant Directory WordPress Theme
Brilliant Directory is another recommended WordPress them for any kind of business listing. This theme can either be used in a hotel, restaurants, listings etc. It can be used to sell landed properties, rent or leasing services or job posting.
DailyDeal WordPress Theme
I love this theme. It takes more than stress to set up an HTML5, CSS, JAVASCRIPT and JQUERY website. This WordPress theme comes with all the features that cannot be imagined to achieve with WordPress. This theme can be used to allow visitors to advertise their products and services in form of listing and letting other customers contact them to buy or inquire.
Business WordPress Theme by MyThemeShop
Business by mythemeshop is a popular WordPress theme for corporate website and portfolio. It can be customized to any standard company website that looks like an HTML5 template. It also has two top menus which can be used to navigate and a space for a call to action is set to easily embed your email and phone number within the theme homepage to automatically leave the option to your customers to decide either calling or sending an email.
Coupon / Business WordPress Theme
Coupon WordPress theme is the best match for anyone looking to set up a business listing website that helps brand and businesses to increase sales through coupons and discounts. This plugin can also be used to promote affiliate products with coupons which help to increase conversion.
Builder Business WordPress Theme
Builder is a multipurpose WordPress theme as the name implies, it can be used for building and construction website, e-commerce website, personal blog, interior design and other purposes.
Classified Ads and Listing WordPress Theme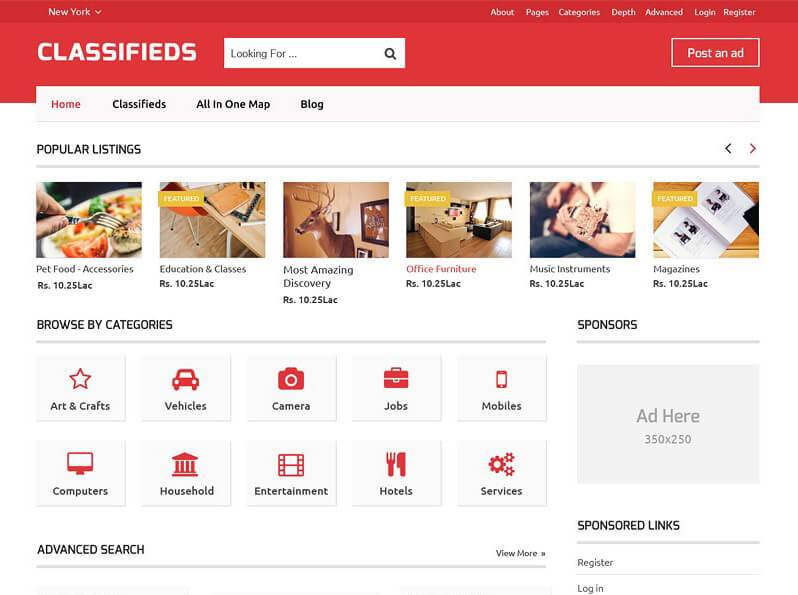 Classified is a beauty and professional WordPress theme that provide a beautiful service for webmasters. The need to start coding from scratch has been eliminated by templatic and replaced with beautiful and elegant business themes that can be used to generate income.
Classified ads theme has some very great and amazing features that will interest anyone. Features include:
City, Location Management, Default location settings, Map Customization, easily edit and customize login and sign up page to suit your needs, allow users to register and post ads for free or paid enabled with any payment methods, PaPal and any other payment methods.
Users can register and post free classified ads and professionally with customized fields like setting up price for their listing, choosing categories, locations, checkbox etc.
Functional user dashboard: From the user dashboard your visitors can see basic information about their account and also edit their posts, manage favourites, delete posts, renew posts and even upgrade posts in case you are using plan subscription. For Payment, you automatically have PayPal payment uption pre-built in it though you may have to purchase this plugin to get some other premium payment gateways available since this isn't related to woocommerce. For More Theme features please Click Here
You May Also Want to Read: 9 Best WordPress Membership Plugins in (2018)
Job Directory Business WordPress Theme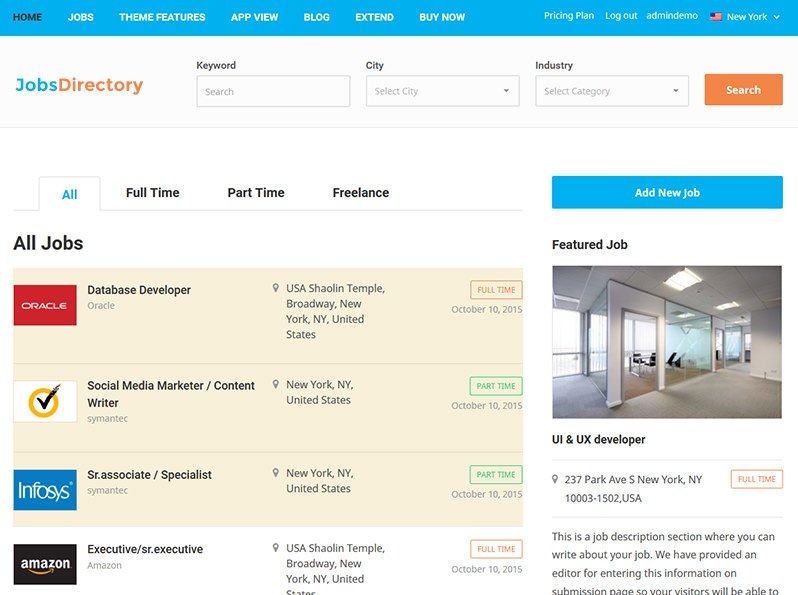 This is awesome. Are you looking to start publishing jobs and other special services on your website and let people contact their respective agents and plan interview? This is a perfect match for such a business. Either you are listing online jobs vacancies, offline or any type, part time, full time or intern can easily be categories.
It doesn't end there. You can now let agents sign up for an account on your website and start posting job ads. This is a good WordPress theme to start a beautiful business. Agents may have to subscribe to plans. For example, 10 jobs listing for 30 days at $5 or the likes. I call this theme a business and income stream.
HomeQuest Real Estate WordPress Theme
Homequest is a most go for business directory WordPress Theme for Real Estate business. If you are into real estate or your client is looking for a real estate WordPress site which you are been ordered for, you don't need to worry anymore on how to code and please him. Here's a best choice for him. You can customize it for your client.
Listing WordPress Theme
Listing is a business WordPress theme for listing places, services or products. It can be used to list markets, hotels, shops or products which also gives a user (visitors) the opportunity to cast their reviews and leave comments.
Job Board WordPress Theme
Job Board is a WordPress theme responsible for posting job position and allowing you to categorize various jobs in different formats such as Part-time, Full-time and even by name.
It gives you access to allow job seekers to easily submit their resume and attach some information about themselves before submitting which will allow you to access their details before contacting them for an interview. If you or your client manages a large company that recruits from time to time, this plugin could help them manage job vacancies and allow people to easily submit their Curriculum Vitae for review. Or maybe you are an agent and will probably want to use this beautiful and elegant WordPress theme to list your job position.
Appointment WordPress Theme
Appointment WordPress Theme can be used for any professional service website such as Lawyer, Hospital, Banking, Consultant etc. It's possible to use this theme to cover all those services and still manage your inventory without confusion.
Web Hosting WordPress Theme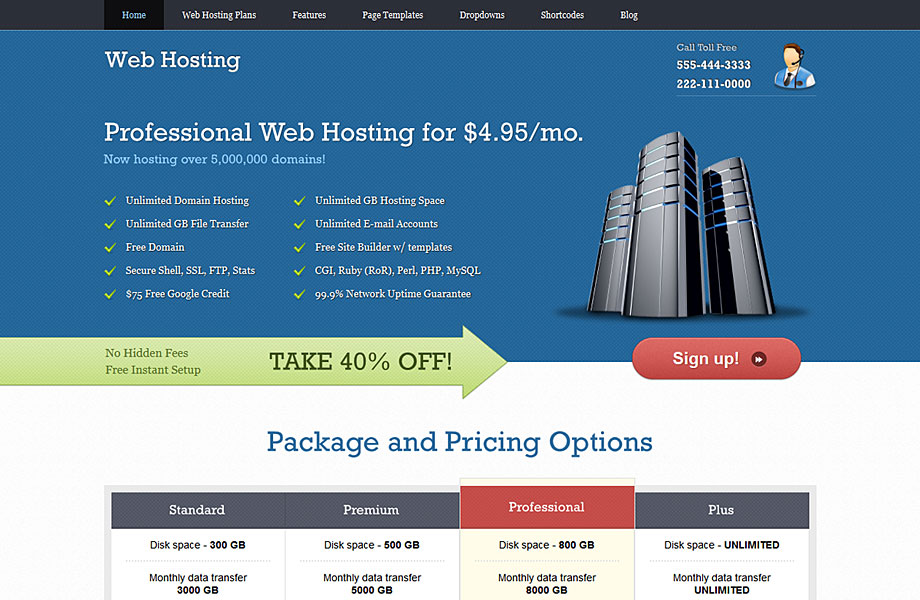 If you wish to start web hosting business and don't know web design, this might be a good alternative. You can design your web hosting site with WordPress now with an already designed WordPress theme that allows you to manage your hosting service. This theme is advisable to affiliate marketers mostly who promote hosting service.
These are most professional Business, corporate and consulting WordPress Themes I can recommend for now But if you don't find anyone that suite you, you may try the links below.
TEMPLATIC: GET ALL THEMES MYTHEMESHOP: GET ALL THEMES